Getting Started
---
1. Do you have an outlet?
Six of the eleven major manufacturers use a 'Compatible With Powerlet' outlet as shown in the picture above on the 2012 Ducati Multistrada 1200. Below are the four common power outlets found on powersports vehicles. Your vehicle may already have one of these installed. While we sell all four types of outlets, we recommend the Powerlet type outlets.
Powerlet and Compatible Connectors

Powerlet sockets are smaller than a cigarette socket, vibration proof, and can handle high current loads. Six of the eleven major vehicle manufacturers use 'Compatible With Powerlet' connectors instead of cigarette sockets. The Powerlet Equipped System is designed around this connector. The Powerlet connector is also a nonproprietary DIN/ISO open standard that is factory installed on many brands of vehicles.

Coax

Coax connectors are mainly used on heated clothing. Several brands of heated clothing changed from SAE to Coax connectors starting in 2003. Coax connectors are sometimes called barrel connectors.

Cigarette

Cigarette sockets are popular in automobiles and many cell phone, GPS, and radar detector cords come with this connector. However, they often have a loose fit, are susceptible to vibration, and are not high current. Due to these drawbacks, Powerlet recommends using them in enclosed spaces such as inside tankbags and gloveboxes.

SAE

SAE connectors are used on many battery chargers and on Powerlet Luggage Electrix. In order to use SAE connectors for electrical devices other than battery chargers, Powerlet offers a wide variety of adapter cables to convert SAE connectors to Powerlet, Coax, and Cigarette connectors.
---
2. What can you do with a power outlet?
Explore applciations
A power outlet can allow you to power a whole world of devices while you're on the go. Never worry about running out of batteries again!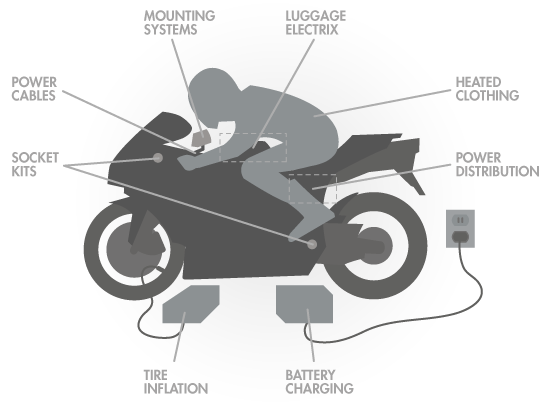 ---
3. Does your outlet do what you need?
Feature Comparison

As the table illustrates only the Powerlet power outlet is compatible with all electrical devices. We call this the Powerlet Equipped System. One outlet does it all.
Our adapters make the four connectors compatible with each other. Need to plug a cell phone into an SAE battery lead? With Powerlet products, it's easy.
We engineer outlet kits for each of the four connector types. These kits are fully compatible with all brands of powersport vehicles.
---
4. How do I install an outlet?
Getting equipped with an outlet is as simple as:

choosing a location

Outlets can be placed in different locations depending on your primary applications. We have kits to install outlets in these locations:


1 - Powerlet or Cigarette Common Uses: GPS, Radar Detectors, Cell Phone Charging, Battery Charging
2 - Powerlet Common Uses: Heated Clothing, GPS, Radar Detectors, Cell Phone Charging, Battery Charging
3 - Powerlet, Coax or SAE Common Uses: Heated Clothing or Battery Charging

and

choosing your vehicle

We have an easy wizard to help you find the right outlet kit. Just select your vehicle and we'll show you all the products that are compatible.
Shop By Vehicle

or